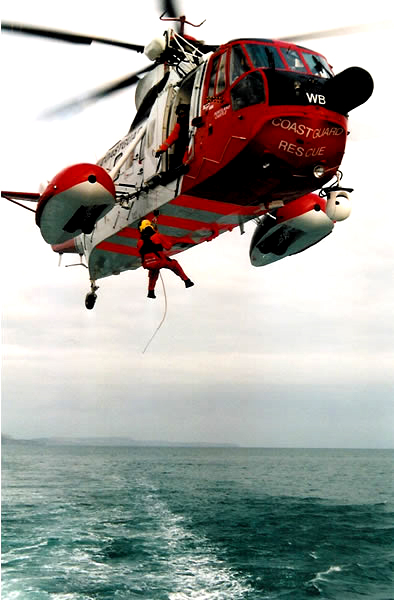 This story appeared in the Bournemouth echo – and tells of a teenager and his mate who stole a boat then had to call out the coastguard helicopter to get rescued. A stunt that cost around £20,000. The lad is now off on a sponsored walk to help pay for his misdemeanour and to raise money for worthy causes. Good on yer I say. If you have money you would like to give to the coastguard, or to the Starlight Children's appeal which helps terminally ill youngsters, there are links in the story.
DORSET taxpayers forked out thousands of pounds in search and rescue costs to save the life of teenage prankster Seb Green and a friend, when they stole a boat and got stuck in a mud flat.
Four years on Seb, now 18, has decided it's payback time.
Accompanied by his faithful collie Flash he's taking the next year off to walk around Britain, raising £20,000 for the Dorset and Somerset Air Ambulance and the Starlight Children's Foundation, which helps terminally ill children.
Seb was 15 when he and another teenager stole a rigid inflatable boat (RIB) from Weymouth Harbour late on the night of May 8, 2004.
The pair became stranded in mud in nearby Fleet Lagoon and a massive air and land search was launched.
Both teenagers began shouting for help and Seb got out of the boat to walk to safety but became stuck up to his waist in mud.
A passer-by heard their screams and called for help.
The Coastguard helicopter, Dorset Police helicopter, two Coastguard land-based teams and two RNLI lifeboats were then launched to look for the missing teenagers.
They were plucked to safety by the Coastguard helicopter half an hour later at around midnight.
Seb, from Weymouth, said: "It was a very stupid thing to do.
"At the time I felt extremely guilty but as time has moved on the sense of guilt has faded because I am now planning to repay the community for the money I wasted and repay some of the money it cost to rescue me."
The 5,821 mile walk will last nearly a year and will take him to Dover, along the Thames Estuary, and up to Scotland taking in John O'Groats, before heading back south, walking through Wales, Land's End and The Lizard in Cornwall.
Seb, who is in the Territorials, plans to join the Royal Marines and hopes to be back at Preston, Dorset, in time for his 19th birthday on November 30 this year.
Seb has promised to do a blog of his epic journey which I am going to look at now and then – and maybe do a thread. www.sebsodyssey.org.uk